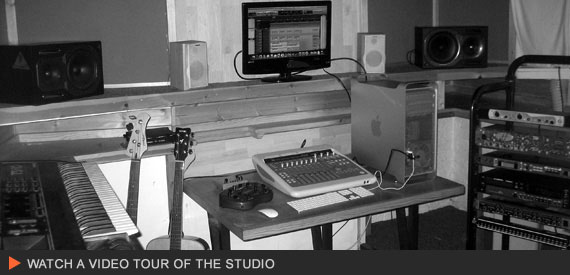 Based in vibrant Shoreditch, in the East End of London, our studio is the perfect place to work on your project and songs.
The studio is packed with industry standard gear such as:
MAC based ProTools recording
Neuman and Shure mics
Roland and Ensoniq keyboards and modules
Pearl 50th Anniversary and Tama Rockstar drum kits
Roland TD-8 electronic drum kit
The studio was designed by a leading lecturer in acoustics, and features a separate live room and control room. Located just behind the Tea Building, moments away from Spitalfields and Brick Lane.
Click here to watch a video tour of the studio.
LIMITED TIME SPECIAL OFFER:
For a limited period we are offering packages from £99 per day. Reserve your booking today to avoid disappointment.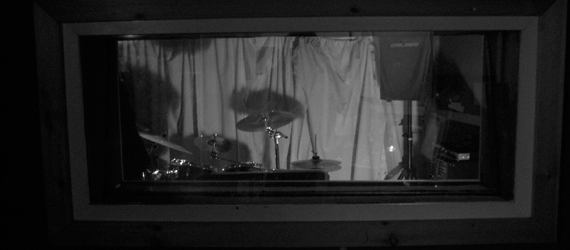 STUDIO FAQ
Q: What do I need to bring to the studio?
A: Your instrument (except if you are a drummer) and ideally your amplifier/speaker. We do have a guitar POD available. This is better for some styles than others and usually you will get a better sound from micing a cabinet so if your unsure please DO bring your amp.
If your a drummer we have a Tama Rockstar 5 piece available to hire at £40 per 4 hour session. This does NOT include cymbals or bass drum pedal so you need to bring your own.
We also have an acoustic guitar available (reasonable quality Yamaha)
Q: How long will it take me to record a song / EP / album etc?
A: There are a few factors involved here and we would need a crystal ball to answer it properly without knowing anything about you.
However we can tell you that the main factors are
1. Instrumentation.
Are you a solo singer/songwriter/guitarist, a 4 piece band or a an 8 piece band perhaps? Its a lot quicker to mix a vocal track with a guitar track than to mix an 8 piece jazz/funk band with drums, bass, keys, guitar, horns, vocals etc etc
2. Recording time
How long it is going to take for you to perform your material at a standard that your happy with. Please note that people who have not recorded before usually take longer than they think they are going to. A big tip here is to make sure you are very well rehearsed before you come into the studio.
3. Live or programmed drums? Although we are not trying to advocate the use of programmed drums over live drums the fact that live drums need to be set up, tuned, and mic'd means you are looking at usually at least an hour before we start recording takes. If your ideas for drum tracks are reasonably simple and you ARE happy with programmed drums or the rhythm tracks are meant to sound synthetic (as in certain styles) then this could be a quicker option.
These are just some of the factors involved but to give you a basic idea using the first instrumentation example. A singer/songwriter/guitarist playing at a confident performance level could easily expect to walk out of the studio with 3 songs fully mixed and mastered (See mastering FAQ's) in a 10 hour day. So using this example as a level of complexity that you can judge yourself against with regards to instrumentation and performing ability/confidence you should be able to get a reasonable idea. The best thing that you can do then is to email us with as much info as possible about yourself and we will let you know how much time we think your project will need.
Also a word of warning. As a musician who has used recording studio's myself I know that a lot of people out there are less than honest when asked this question (how long to record) and will tell artists whatever they think they want to hear in order to get them to book time. In contrast to this we believe in being totally honest with our clientelle with how long its going to take and although this type of honesty sometimes might not be the best for our bank balance it does remain our policy.
Q: Is there parking available?
A: On a saturday it is free. On a sunday free after 2PM On weekdays free after 7PM but before this there is metered parking and numerous car parks which charge both daily and hourly rates within easy walking distance of the studio. Even though the parking is free at times we regret there is no reserved parking immediately outside our address so the best idea is to get as close as possible and co ordinate a load in with us and/or your band members and then park if necessary.
Another suggestion that maybe cheaper than parking if using the studio on a weekday is to drop your stuff off the night before. The place is very safe and we can put your gear in a room behind 7 locks and 4 doors.
Q: Are you in the congestion zone?
A: No we are just outside. Be careful when you drive to and from us though as it is possible if you take a wrong turn to drive inside the zone. (For more information on the congestion zone and its boundaries see http://www.tfl.gov.uk/roadusers/congestioncharging/.)
Q: Is it close to tube/rail/bus?
A: The closest tubes are Liverpool St and Old St (both about 10 minutes walk) The closest overground is Shoreditch High St (2 minutes walk) and there are buses on Shoreditch High St and Bethnal Green Rd
Q: What do the 10 hours include?
A: This includes any time we spend on your project from turning on the computer and setting up instruments/mics to when everything is packed up again. It will start when the original booking time starts unless otherwise re arranged by mutual consent. The time also includes realistic breaks including a main meal break (usually about 45 minutes) and at least a couple of other smaller (10 to 15 minute) breaks.
Q: Can we all play together at the same time?
A: The short answer is yes but to be totally honest it depends how many members your band have and how much isolation you want on seperate tracks. We only have 1 live room available (unlike some bigger and obviously more expensive studio's!) What this basically means is that we can record you playing at the same time in the same room. We can DI some instruments which means that there will be a certain amount of isolation. We have recorded bands like this before and can send you links to the tracks.
Because of the nature of this studio we prefer to record part by part, which gets a better result anyway as you have complete isolation on every track and is also the most common way of recording in bigger studio's.
If you want to record the drums with a guitarist or bassist at the same time to get more feel into it then this is not a problem as we can do this and also work a click track into the mix as well if necesarry. We can also record guide tracks seperately and then have the drummer play on top of these.
Q: Can I transfer files from other studio's computers/take my files to other producers/studio's?
A: Yes but you need to give us all the relevant information on what system it is coming from/going to so we can sort everything to be as compatible as possible. We use a Macintosh computer which is the more commonly used option in the music industry so naturally we are more compatible with other Macs than PC's but this is not to say we havent succesfully swapped sessions with PC's either.
Q: What services do you include in the deal?
A: You get my services as a musician, an engineer, a producer or a mixture of these in whatever time you book at no extra cost. I can play drums, keys, program bass, program drums, sing, arrange harmonies and also help you arrange format and individual parts as well.
Q: Do you offer a mastering service?
A: Yes, however usually this is something that is best done by someone with fresh ears who has not mixed the track and there are people who specialise in this. However if you are looking for a complete package we can either provide this ourselves or reccomend you to someone. We can also give you an option where we give you a CD of the final mix with some mastering applied by ourselves and also the file without mastering so you can also have it mastered when you want.